Münchner Stoff Frühling presents a new motif that embodies the vibrancy of the textile furnishing sector and awakens anticipation of the upcoming spring. The logo shows a dynamic movement of colourful blossoms that convey a refreshing and cheerful atmosphere.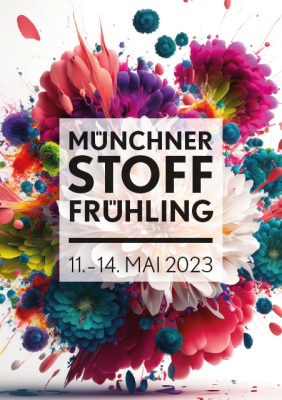 However, this logo is not only an aesthetic eye-catcher, but also symbolises the upcoming season of floral splendour as well as the creative dynamics in the textile furnishing world. As a pioneer of the latest trends in the industry, the introduction of this new motif once again confirms the reputation of Münchner Stoff Frühling as the leading platform for the textile furnishing sector.
For interior decorators, interior furnishers and interior designers, Münchner Stoff Frühling is an indispensable event for finding new inspiration and ideas for their customers. Trade visitors can look forward to many refreshing new products from leading textile and wallpaper publishers.
Münchner Stoff Frühling is thus not only a place to meet and exchange ideas, but also a source of inspiration and innovation for everyone interested in textile furnishing trends.