At the Münchner Stoff Frühling, international textile editors, paint-, wallpaper- and carpet manufacturers as well as textile-related brands are presenting their newest collections. A total of 18 showrooms with around 130 labels from 13 different countries are awaiting your visit and are looking forward to a great 4-day-event in Munich.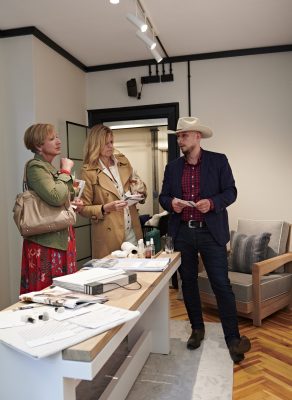 For interior decorators, interior designers and interior architects, the Münchner Stoff Frühling is an essential event to be inspired by new ideas. The showroom event is not only a place for personal contact, but also a source of inspiration and innovation for all those interested in textile interiors trends. This year's logo symbolises the upcoming season of floral splendour as well as the creative dynamism of the textile industry.
Leading platform for premium textile interior designs
"The quality and range of this year's exhibitors will offer trade visitors a remarkably wide range of collections and inspirations. Whether in their own showrooms, temporary pop-up locations or at the Prisco Haus – the world of textiles will inspire with many new products," says Eberhard Müller, organiser of Münchner Stoff Frühling.
"We are very pleased by the great interest from national and international premium exhibitors participating at the  Münchner Stoff Frühling. The concept has proven itself over many years and has been constantly developed further. Today, Münchner Stoff Frühling is the leading platform for the premium textile furnishing sector", says Klaus Winkler, organiser Münchner Stoff Frühling.
All showrooms are connected to a free shuttle service, which runs every 10 minutes. Registration is required. Free admission.
Related events in Munich that will take place at the same time as the MSF are: MCBW (Munich Creative Business Week) and the Flower Power Festival